Living in Justin, TX (FAQ + Real Estate Info)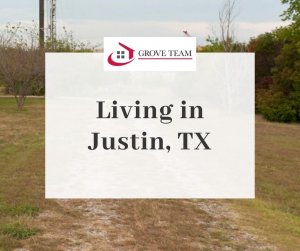 You're probably wondering, what is it like living in Justin, TX? Although Justin is a relatively small city in Denton County it is quickly growing as more people realize its appeal. Expansive rural properties intrigue potential buyers. Also, highly-rated school systems attract families.
Frequently Asked Questions
Is Justin, TX a Good Place to Live?
Justin, TX is considered a great place to live. Niche ranks it as a top suburb in DFW and gives it an overall grade of B+. Area Vibes also ranks it favorably for its exceptional livability. The cost of living is slightly higher than in other Texas cities but its various qualities warrant the costs. Crime is lower in Justin than in most Texas cities. In fact, estimates suggest Justin is 59% safer than Texas. The chances of being a crime victim are 1 in 89 which is 56% lower than the United States.
How Far is Justin, TX From Me?
Justin is 26 minutes from Keller. It is 44 minutes from Dallas and 36 minutes from downtown Fort Worth. Use the map below to check other cities. Click the more options button to change the location.
Homes for Sale in Justin
No properties found
Check out more Homes for Sale in Justin, TX.
Property Value
Justin's home value is 16% higher than in Texas. The median home value is about $165,000. Almost 80% of residents own their homes which is about 25% higher than the national average. Buying property here is a great investment for homeowners.
Population
Justin's current estimated population is 3,660. The city is growing quickly, however. The population is expected to increase this year and in subsequent years. The rural vibe provides peace of mind for its residents. Those who enjoy a rural lifestyle get the best of both worlds. With highly-rated school systems, families can enjoy a rural lifestyle without sacrificing education.
School Systems
Northwest ISD school district is the primary school system for Justin. It is one of the best districts in DFW. Over 60% of its schools are graded as above average. Parents of young children can feel comfortable with all levels of schooling. High-quality educational opportunities create further intrigue for prospective residents.