Seller's Checklist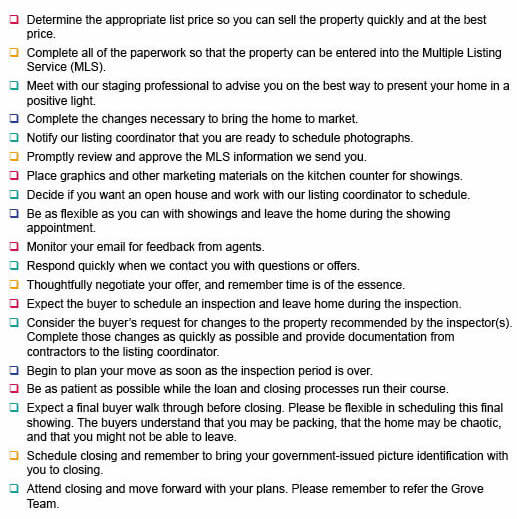 Preparing for Pictures
Research shows that 99% OF BUYERS PREVIEW PROPERTIES ON THE INTERNET before selecting homes to visit. Our shared goal is to make your home enticing to buyers.
General
Think model home appearance: neat, clean, well decorated, and free of clutter
Remove anything hanging from the back of doors or door knobs
Move any pet beds, food bowls, and litter boxes to the utility room
Turn off TVs, computer monitors, and ceiling fans
Remove family photos from walls and table tops
Clear furniture of items that are not decorative
Pull back drapes or curtains
Remove throw rugs
Minimize seasonal decorations
Secure personal paperwork, mail, prescriptions, and weapons
Kitchen/Dining
Empty the sink and remove hand soap, sponges, or dish cloths
Store small electrical appliances out of sight
Clear off countertops
Clear the front, sides, and top of the refrigerator
Remove towels hanging from handles of appliances or drawers
Remove booster chairs or high chairs from the dining area
Bedrooms
Cover sheets, blankets, mattress, and bed frame completely with spreads, comforters, or bed skirts
Make sure that nothing shows under the beds
Put away phone chargers, remotes, personal items, and medical equipment
Bathrooms
Remove soiled towels and wash cloths, and replace with clean folded ones
Remove toothbrushes, shavers, hand gel, and other personal items from vanity and shower
Remove all toys and personal items from bath and shower including racks that hang on showerhead and bath scales – and put away the toilet plunger!
Pull back shower curtain
Outside
Neatly trim shrubs and tree limbs that obstruct the view or any entry to your home
Remove hoses (unless hidden by shrubs), gardening tools, toys, and unsightly lawn furniture
Replace dead plants and fill empty pots with colorful plants
Preparing for Buyers
Prepare for Showings
Expect short notice and maintain your home in ready-to-show condition as described on the previous page
Increase the buyers' comfort level by giving them privacy by leaving or stepping outside and
maintaining your distance
Showcase your home as if you were receiving guests: put out fresh flowers, guest towels, and remove any pet or cooking odors
Secure medications, valuables, and weapons
Turn off television programs, but create ambience by playing soft instrumental music
Maximize Curb Appeal
Implement a seasonal grounds cleanup
Create interest and add color by planting blooming flowers and shrubs
Repaint any faded or peeling exterior wood or siding
Trim shrubs or trees, especially those that touch the roof or extend over walkways and pools
Keep exterior holiday decorations to a minimum
Light Sells Houses
Clean light fixtures, remove any visible coil type light bulbs, install maximum wattage bulbs as recommended by the manufacturer
Clean windows and open drapes and blinds
Leave lights on as much as possible during the day: lamps, niche lighting, and spotlights give your home a cozy feel
Spruce Up the Interior
Touch up interior paint or repaint entire rooms as necessary
Clean carpets to remove stains and odors - repair and re-stretch if necessary
Re-caulk bathroom tubs and showers
Make sure all doors, including closet doors, open freely and latch securely
Maximize kitchen and bathroom counter space by clearing countertops
Keep interior holiday decorations to a minimum
Buyer Inspections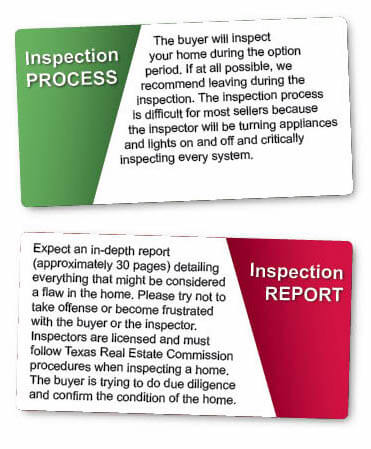 Sample Inspection Report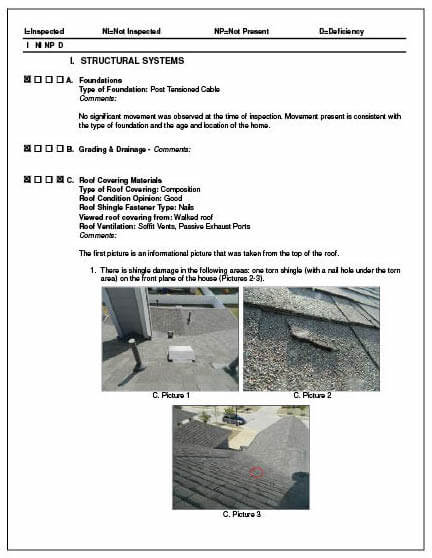 Contract to Close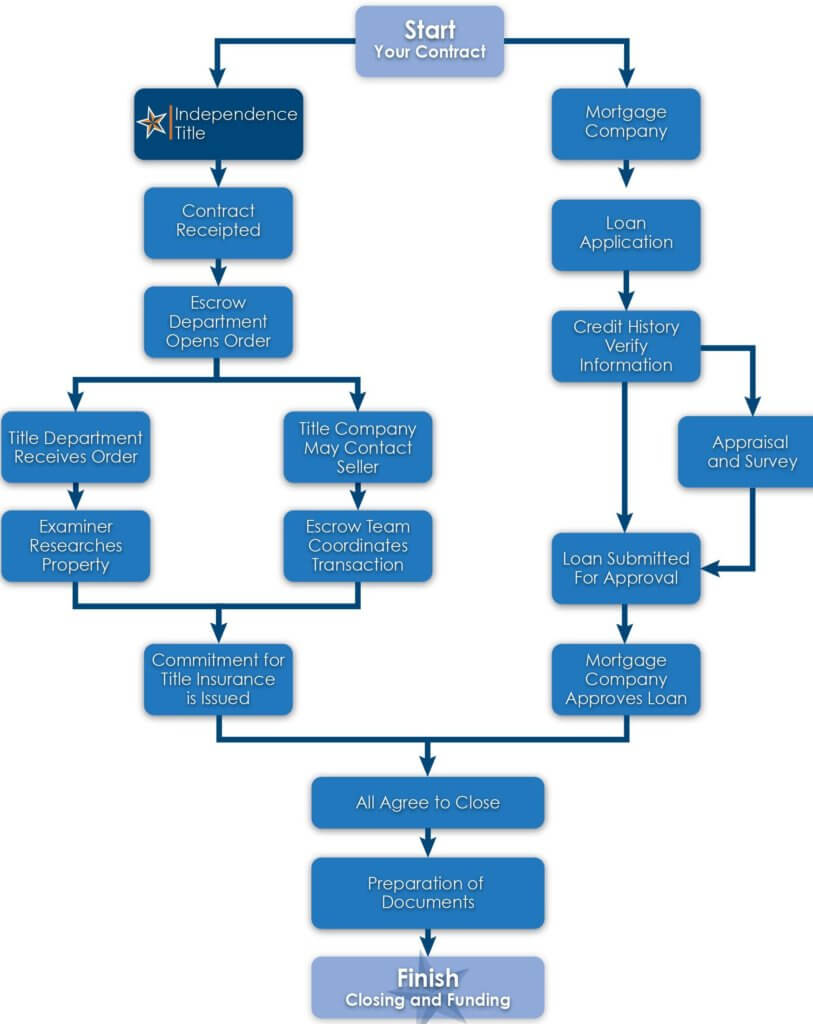 Closing
The CLOSING PROCESS finalizes the legal transfer of your home and completes the financial transaction.
Items to bring to closing:
Government issued picture identification
Blank voided check or certified funds
What can you expect?
The title company escrow officer has examined the closing documents. She or he has made sure that you receive any monies due you, that taxes, broker professional fees, and other closing costs are paid, and that the buyer's title is recorded.
What are your costs?
Sellers commonly pay the following at closing:
Mortgage balance and prepayment penalties, if applicable
Other claims against your property, such as unpaid property taxes or HOA dues
Real estate broker professional fees and title insurance premiums
Title company legal and recording fees
After the closing, make sure you keep the following for tax purposes:
Copies of all closing documents
All home improvement receipts on the home you sold